Hello! Hola! Hallo!
Om Swasthi Asthu! Namaste! Sawadee!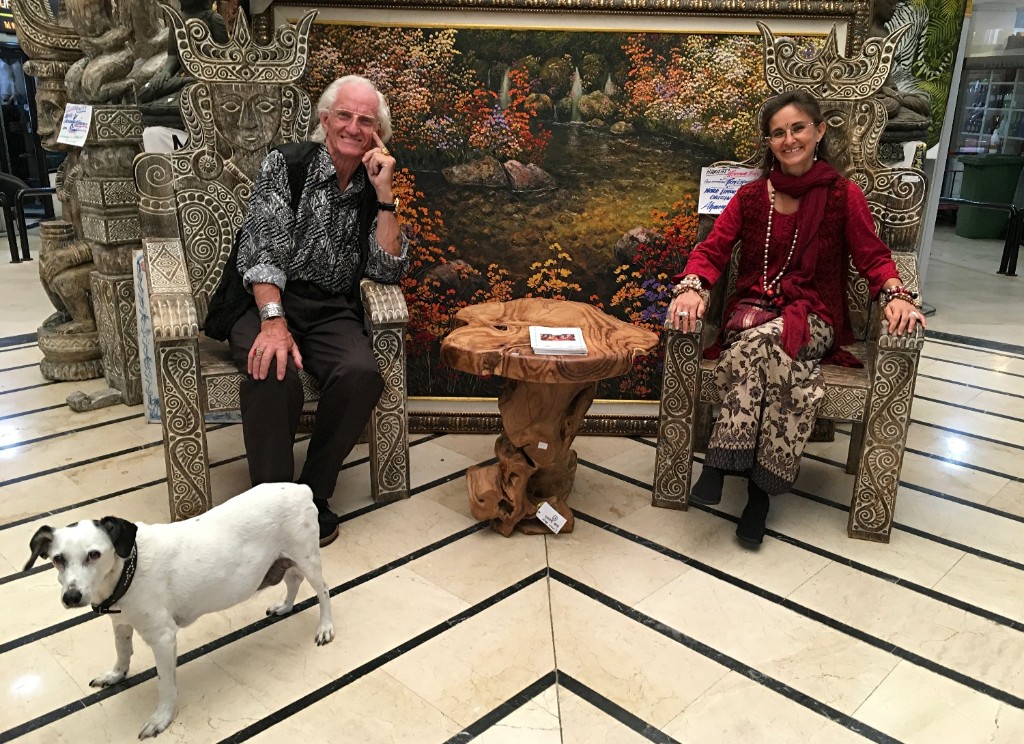 I'm Hubert. And I am Nisarga.
And this is our "boy" named Dallas.
Together we are the Company
"Bali Beach, the treasures of this world" .
If you want to know more about us,
Here is our story: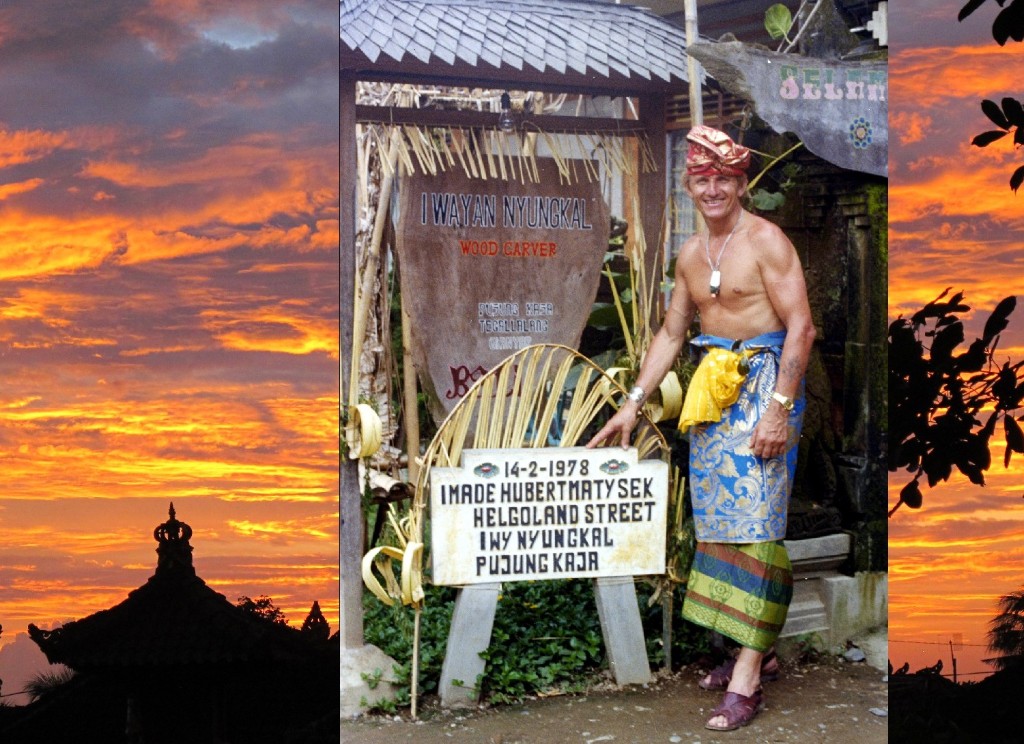 Hubert Matysek
adventurer - cameraman - art collector
Hubert Matysek grew up in the south of Germany. At the age of fifteen, he lost his parents and had to fight himself through life from then on. As if by chance he came to Helgoland, a small island in the North Sea between Germany and England. Actually he waited in the Hamburg harbor for a ship to Brazil, where he had relatives. But Hubert Matysek found his personal and professional happiness on Helgoland. He dreamed as a teenager of traveling to foreign countries. At the time a world map hung over his bed and when he looked up at night, he began to think about exploring Africa, Asia and America. With his first money he bought a camera and went in the winter on the trip. There he also made his first films and made slide images (the slides are unfortunately no longer available). Back in Germany, he showed people in small presentations, the world outside the European continent. This was completely new in the late 1950s / early 1960s. People were amazed! The enthusiasm was so great, and so it came, that Matysek from then on equipped with a professional movie camera went every winter for 6 months in adventure expeditions. A newspaper reporter once wrote: "For six months he works like a savage, and for six months he lives like a savage."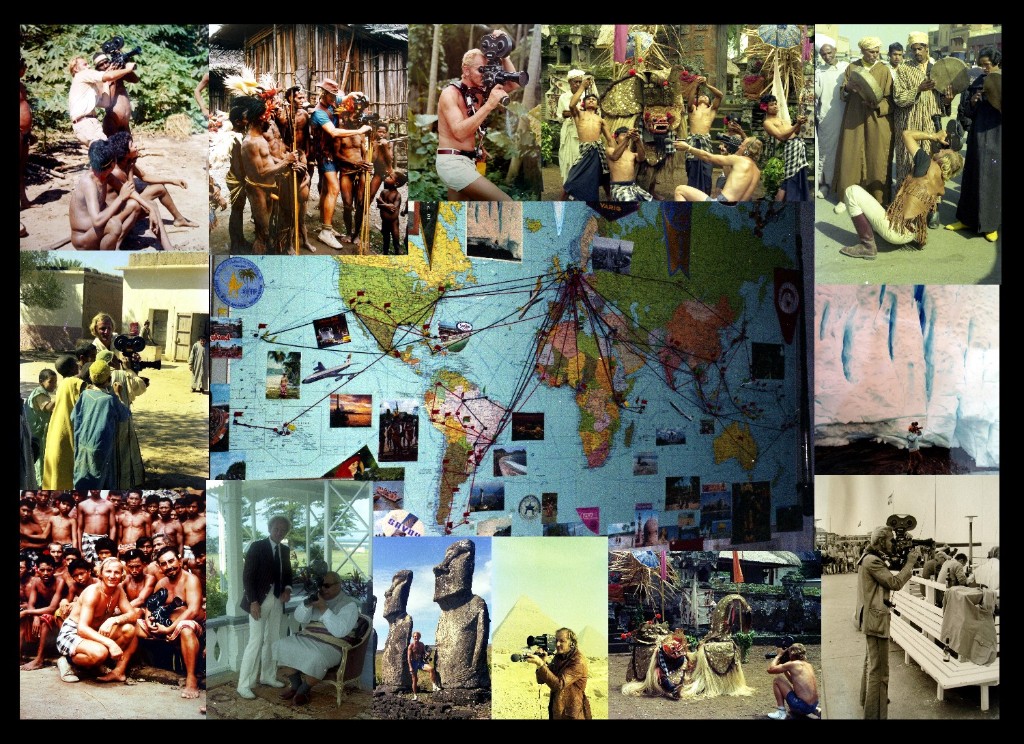 So he discovered the remotest corners of the earth, whether it was the African continent, the islands in the Indian Ocean, Middle East, Asia, Australia, the South Seas, North, Central and South America; Hubert Matysek visited the peoples as a friend, lived and celebrated with them. He met kings, presidents, tribal chieftains, high-ranking priests and monks. Matysek lived in castles just as happy as on rickety boats of the locals or in a tree house in the jungle.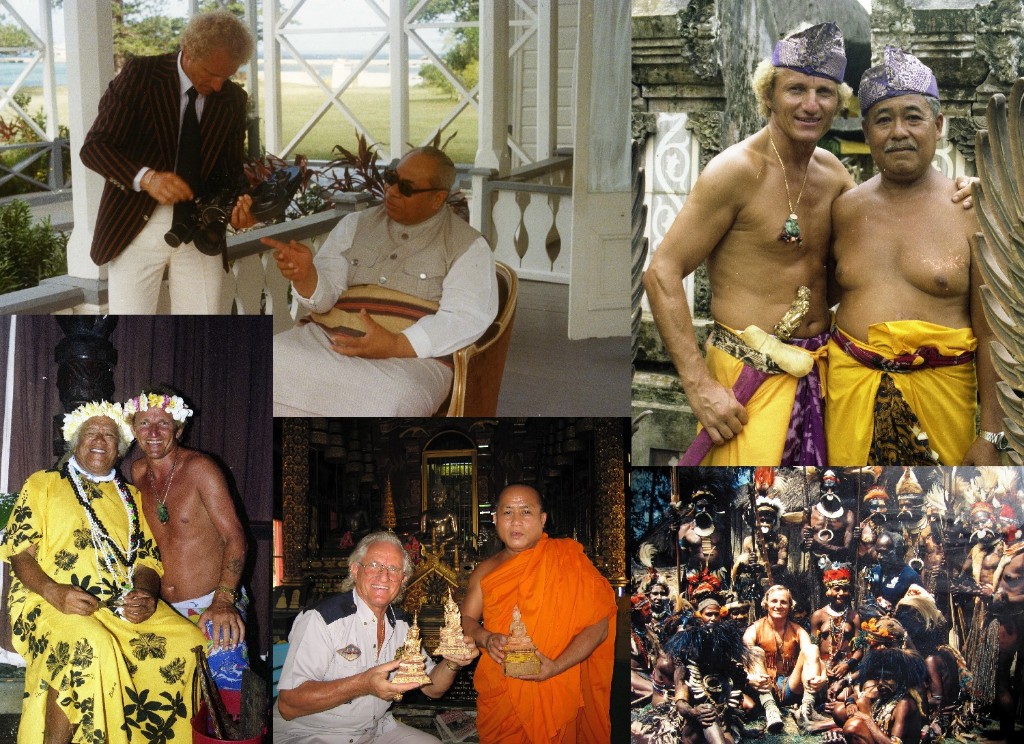 This resulted in more than 80 documentary films. Photos from the expeditions are on the page: "50 years expedition", Hubert Matysek did not bring back "only" films and photos of his travels, but also great works of art. His friends and also the visitors of his film presentations (which now took place in large halls) were enthusiastic about the art of foreign countries. The idea was born! In 1974 Matysek opened with his first wife the "Bali Beach - works of art from around the world" in the center of Frankfurt am Main / Germany. The small shop had a very special atmosphere: foreign smells (incense sticks), strange sounds (for example gamelan music), candles, blossoms and flowers -when the visitors entered the shop, they were looked at by thousands of eyes: Everywhere hung grotesque masks from Indonesia, Africa and New Guinea. There were deity-figures from India, Nepal and Bali, Buddha images from Tibet, Thailand, Myanmar, Cambodia, India, Sri Lanka and China. Figures and items of "primitive" peoples from New Guinea, Africa and the South Seas. And of cause, so many photos! Little by little, jewelry was sold from all countries of the world. Hubert Matysek had great success! But it always drew him into the distance. After Christmas, he went on trips for four months, to experience new cultures and to bring great works of art with.
On these trips he often took his son Andreas. The world was just too beautiful not to show it to him.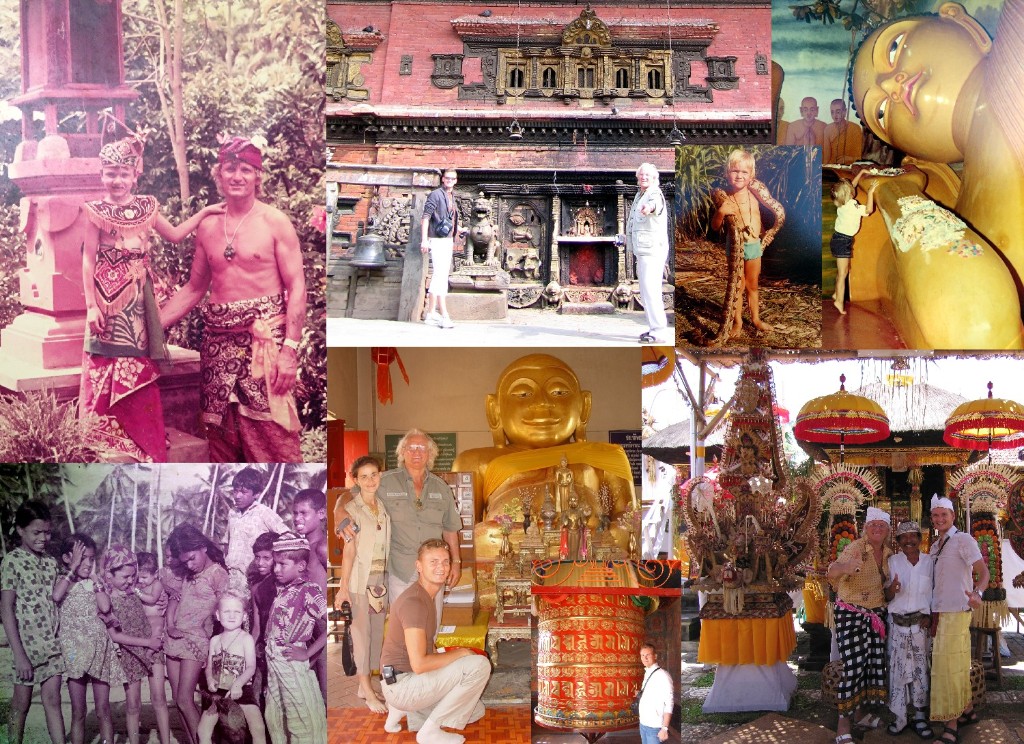 The "Bali Beach" was a family business and has remained to this day. It is not just a shop: it is a life's work with a large and a great story. Perhaps you wonder why Matysek called his business "Bali Beach". Bali, the island of the gods and demons, simply drew him into its spell. He landed in 1966 for the first time on this island with an airplane with drogue parachute, because the runway had been very short. There was not a big terminal like today, but a small house and to the welcome the guest little Balinese came with a floral gift and a coconut. Hubert Matysek experienced the opening of the large "Bali Beach Hotel" in Sanur and stayed for 4 months. Every year he came back and when he opened his small hotel and the tax-free shop in Helgoland in 1969, he called it "Bali Beach". By the way, Bali is the second home of the Matysek family to this day.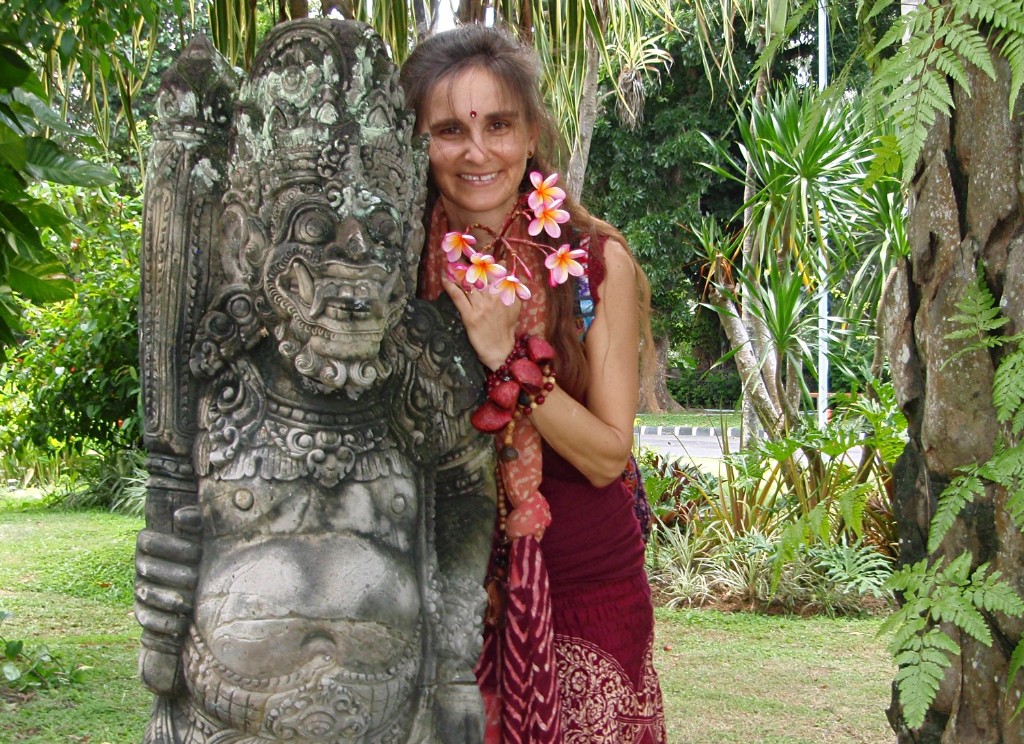 Nisarga Kerstin Matysek-Emich
the silent artist with the loud jewelery - traveler – sannyasin
Since Nisarga can think, her life is full of creativity. She paints and do handicrafts from childhood. She loves to photograph and be in nature. Nisarga always dreamed of living in a foreign country and to travel through the world, because she is a part of it! She always wondered why borders are necessary? Harmony, peace and understanding beyond all cultures - that was deeply rooted in her. When Nisarga is asked, where does she come from? Then everyone expects a certain country. But she always replies: From this world! The atlas (collection of maps) was her most beautiful book! First Nisarga was interested in African culture, but later she discovered the diversity of Asia. Since then, she lives a life of spirituality. The Japanese Zen culture, Tibet, India, Nepal, Hinduism and not least the Balinese Agama Hindu Bali are a part of her existence. Although she felt drawn to the Hindu religion and practiced it, the Buddhism is equally familiar to her. Thanks to Osho, today she is a sannyasin and goes her own religious way. However, it is amazing that Nisarga really understands the life of Buddha and the Hindu deities through this step. Previously, it was borrowed knowledge, semi-skilled knowledge.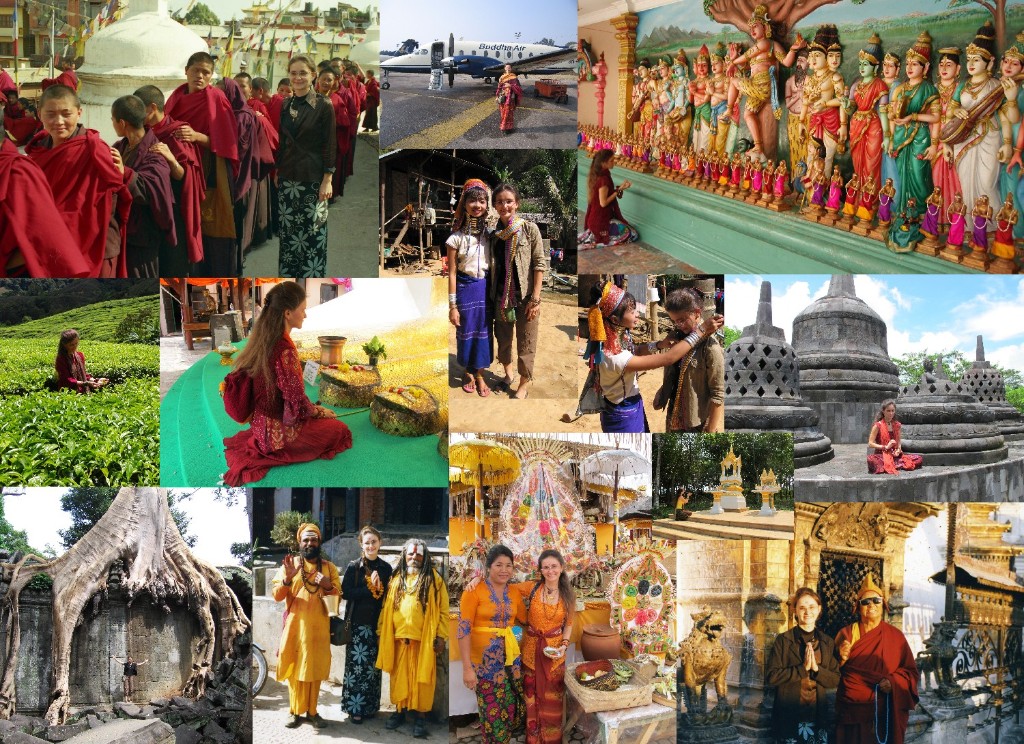 Bali has a very special meaning in the life of Nisarga: When she discovered the culture in a lent book, she was absolutely fascinated. A world full of gods and demons, carved in stone, carved in wood and living in nature. But where could she get such a piece in Germany? Her mother remembered that there was a shop in Frankfurt and they made their way. Nisarga in Wonderland shop! Her heart pounded with joy. There was everything her heart desired. Yes EVERYTHING, because there was a man between all the masks and figures who conquered her heart. It was love at first sight! This was in the autumn of 1989. Nisarga first bought a Rangda mask, because the witch of Bali has such a big attraction on her (by the way, to this day)! Hubert Matysek impressed the "girl" who also bought a Garuda statue that had a crack. Other people are bothered by this, seeing the statue as broken. But Nisarga said: This rift is a sign of the great energy that this statue possesses! Since 1990, Nisarga and Hubert have been a couple. Since then they travel together every winter through the world and, of course, to Bali.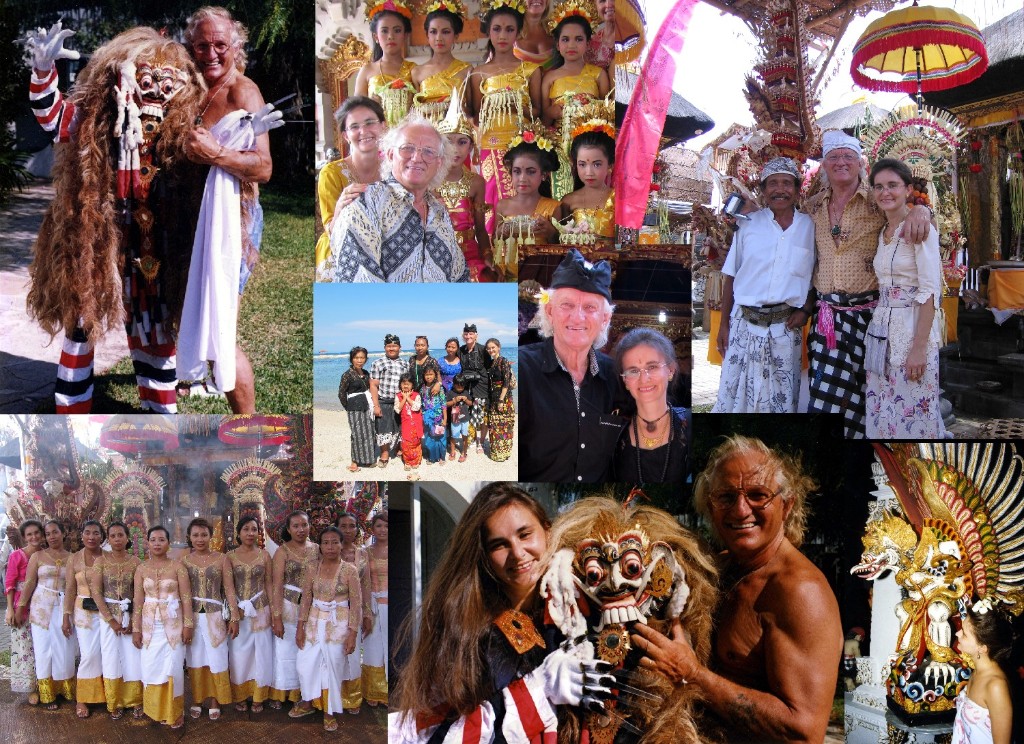 ******************************************************************************************************************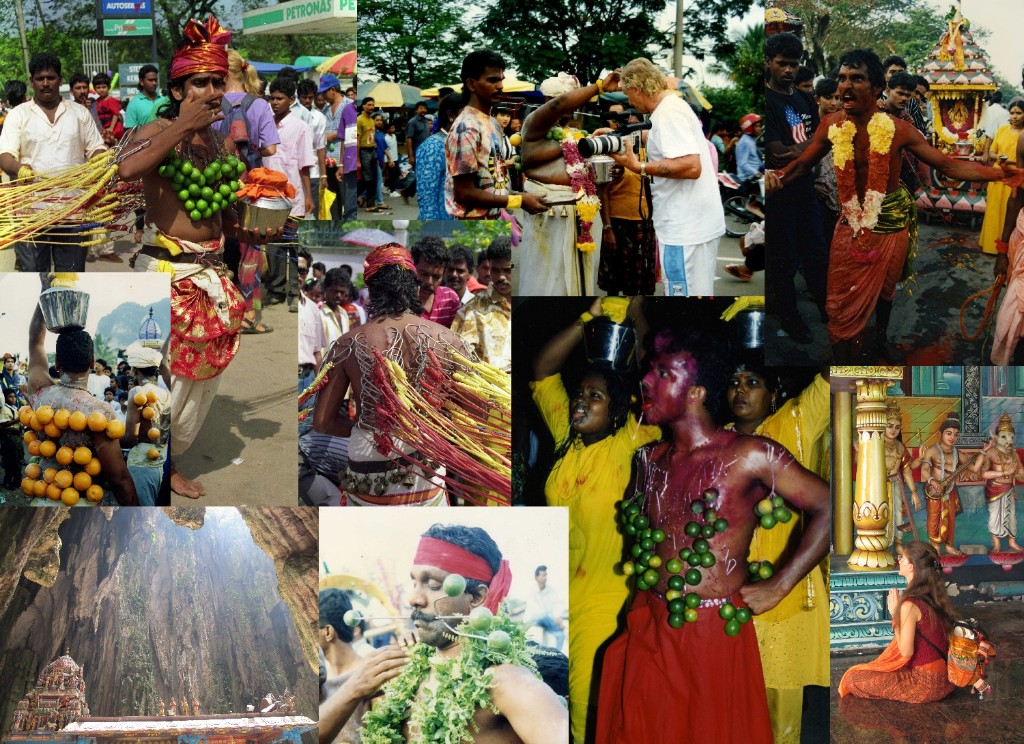 (In 1994, Hubert Matysek finished his work as a documantary filmmaker with the Thaipusam Festival. Nisarga did the photos. It was an incredible experience for her. Two days and two nights they were very close to the faithful. They accompanied the Hindus to Batu Caves, KL, Malaysia.)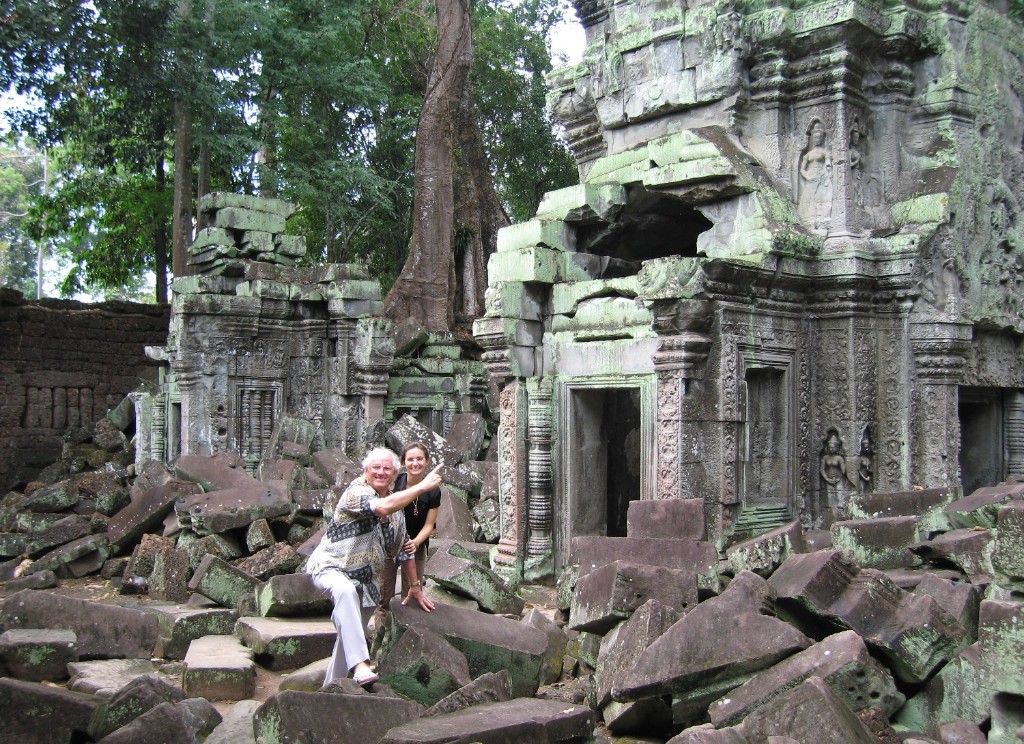 om (In the "Tha Phrom - Mother- Temple", Angkor Thom, Cambodia.)
In 1998 Matysek announced: Bali Beach leaves Frankfurt, leaves Germany!
No one would have held it there for possible, that such a big, well-known shop packs the trucks and goes on their own "adventure". Once again it was a coincidence in the life of Hubert Matysek: December 1997, he called his friend in Spain, to wish him a Merry Christmas. Willem was lying on the terrace, sunbathing. At this time it was bitterly cold in Germany: minus 17 degrees Celsius! Incredible! Nisarga and Hubert did not believe him and so they flew on Christmas Day to Malaga. In fact: pure sun! Five months later, they began with the move to a new life. It was a start from point zero, because they were completely unknown here. Nisarga and Hubert accepted this challenge and were rewarded amply!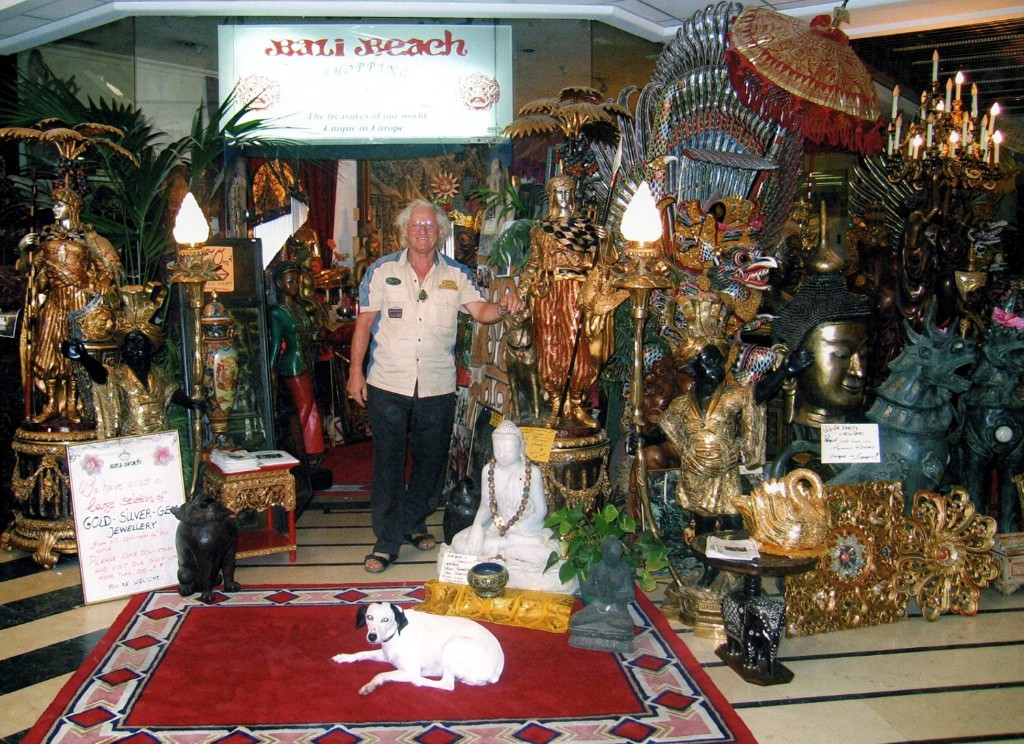 The "Bali Beach Museum Shop" has been in Marbella-Puerto Banus for over 20 years, and Nisarga and Hubert are very proud of it! It was not easy to gain a foothold, but the quality of the works of art, the temple-like atmosphere, the adventure stories of Hubert and not least the always cheerful manner and great knowledge of his wife Nisarga have simply convinced the customers. The art collection covers such a wide range, that the Matysek family can rightly say that "Bali Beach" is unique!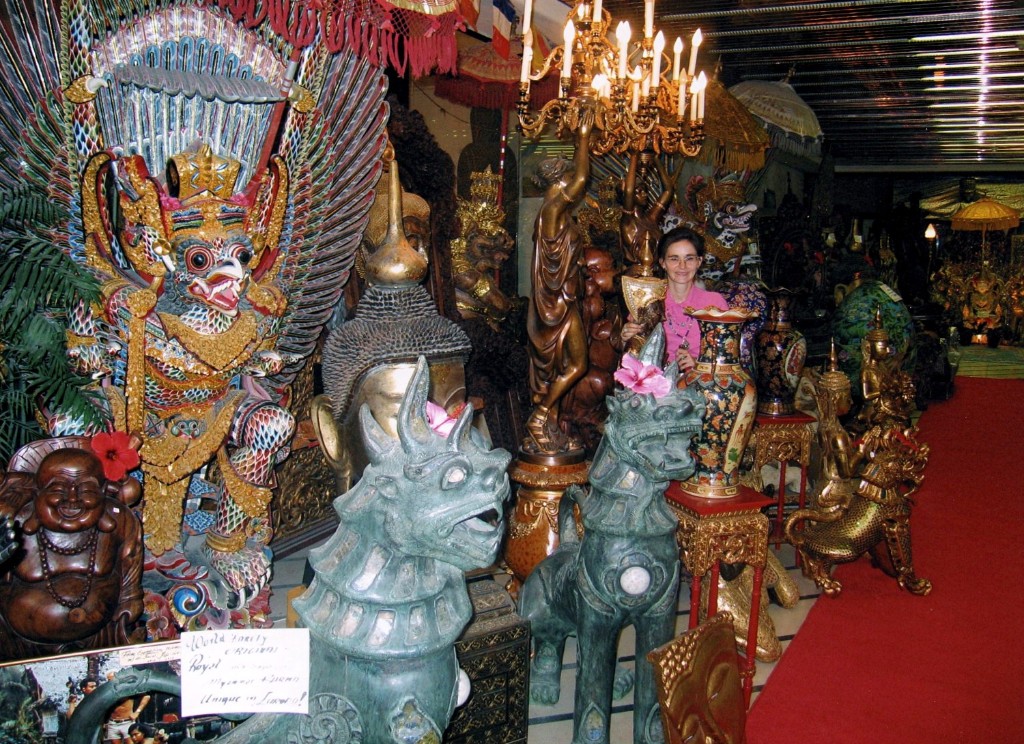 *****************************************************************************************************************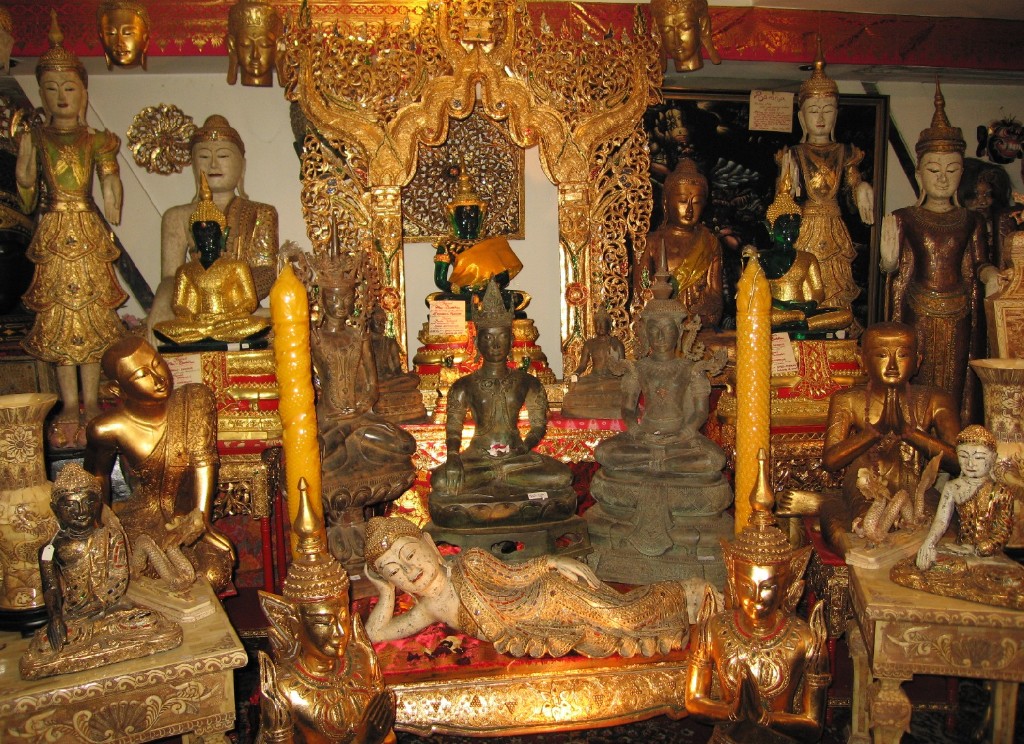 And every year, Nisarga and Hubert surprise their customers with great works of art, pieces of furniture and jewelery, which they have discovered somewhere in this world on their journeys. The "Bali Beach" has always had a museum character. But here the fewest parts are behind glass and the paths in the shop are very narrow, as you can see on the page "Bali Beach Shop". (Please visit necessarily, because there you can really experience the store!).
*************************************************************************************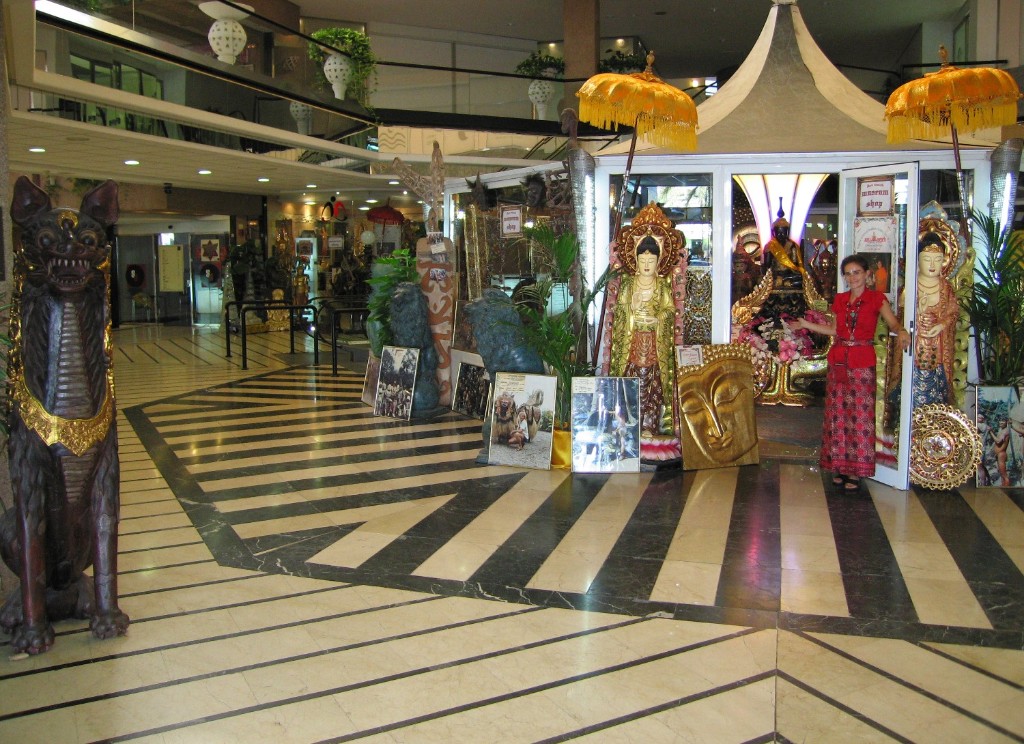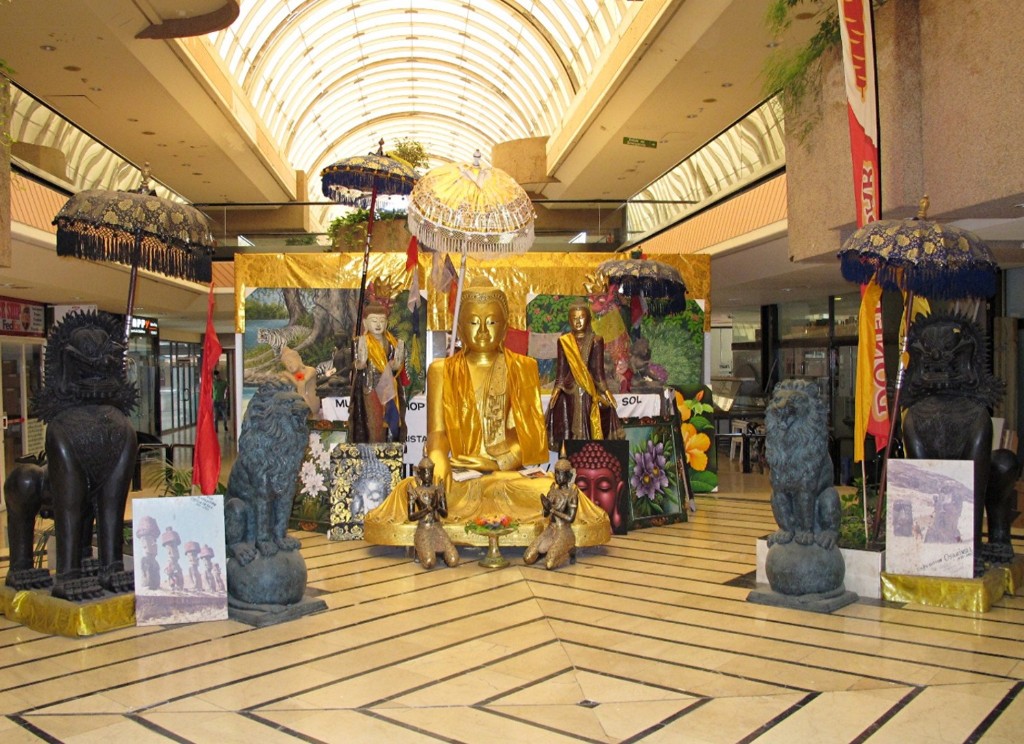 *************************************************************************************************************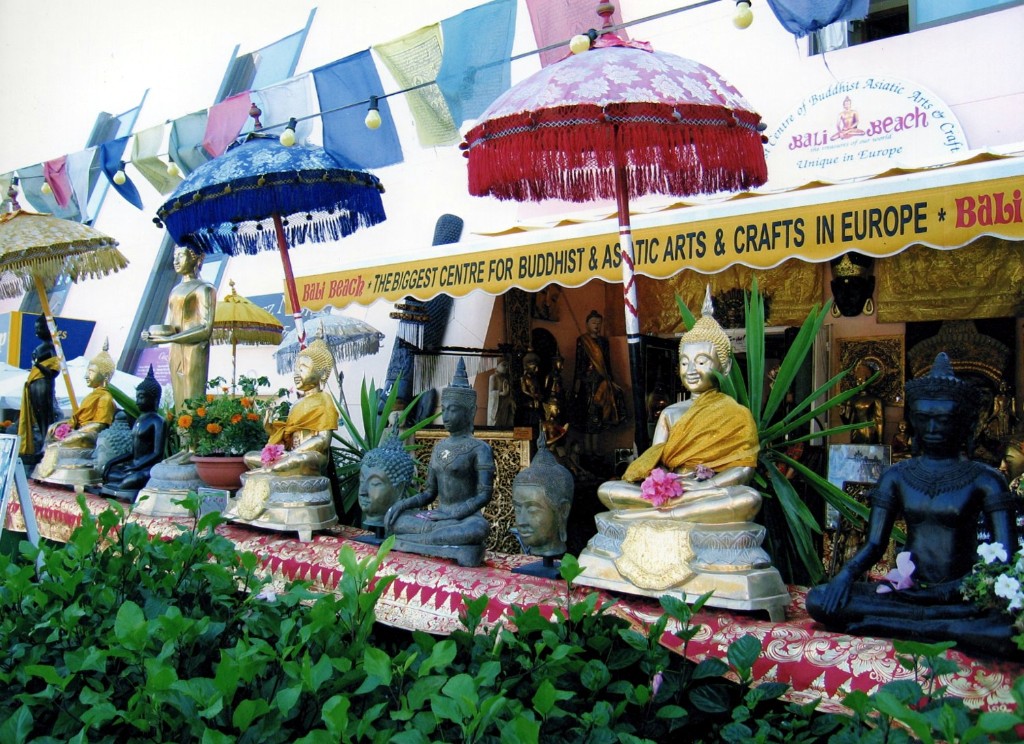 *****************************************************************************************************************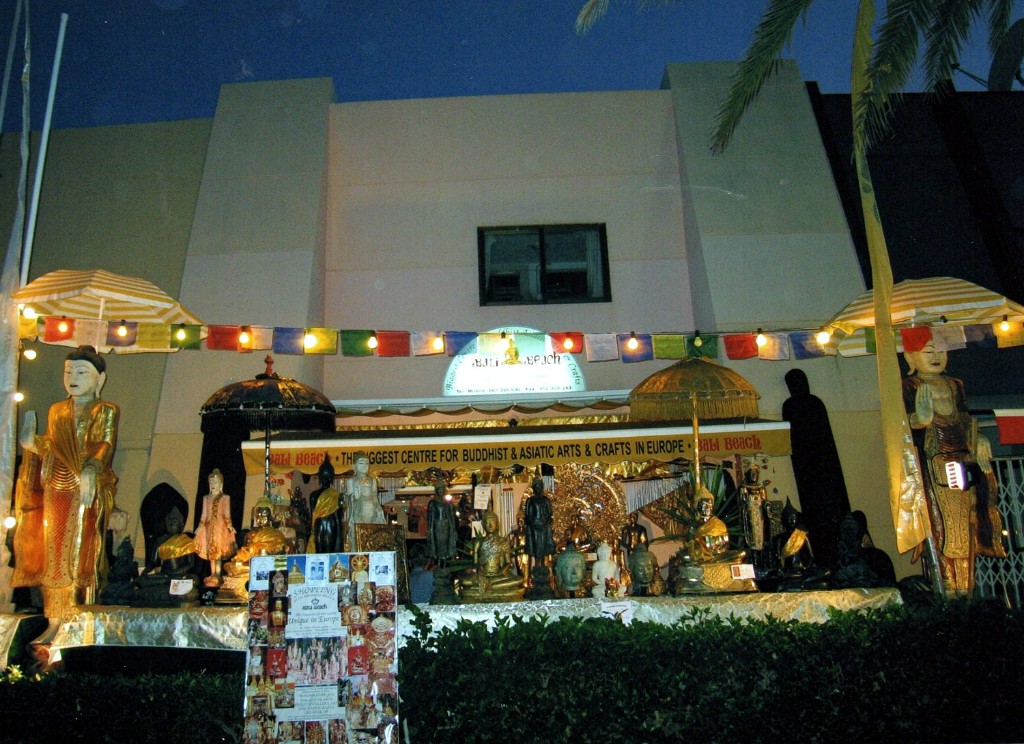 For a couple of years, Hubert's son Andreas also worked in the family business, but then went back to his own path.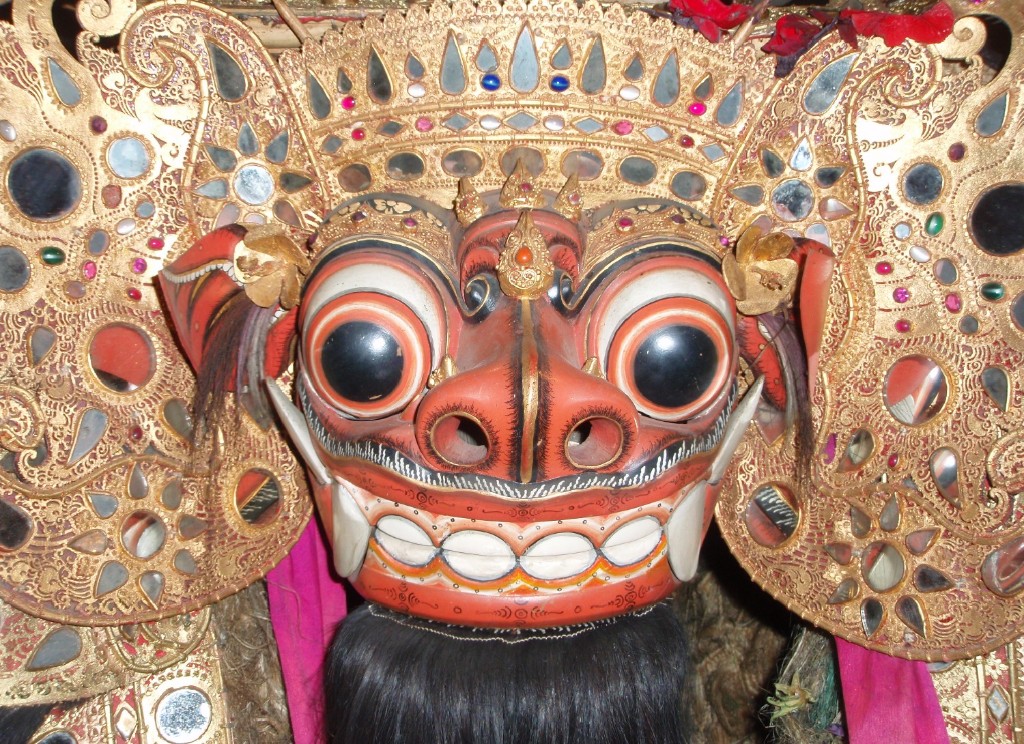 When 2015, in the middle of the summer, the soul of the "Bali Beach", Barong Ketet, left the shop and disappeared in one of the many containers, Nisarga and Hubert embraced and wept bitterly. Everything around them became still, everyone felt affected; the longtime neighbors, the packers and just passing pedestrians. Nisarga and Hubert said goodbye to over 1300 pieces, which were part of their lives. Real museum pieces from Bali, New Guinea, Tibet, Myanmar, Indonesia, Thailand, Cambodia,... but there were also tears of joy and gratitude, because Mr. Vladimir Shcherbakov, together with the World Ocean Museum, created a monument to Hubert's life's work with the exhibition "The people of the sea" in Kaliningrad/Russia.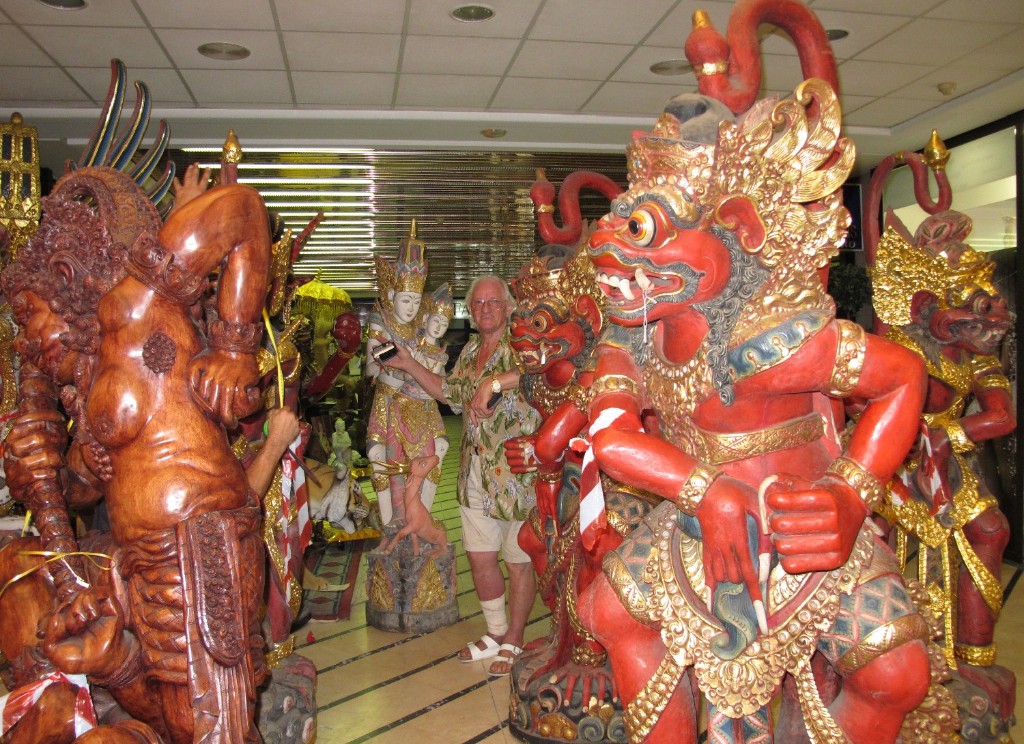 This was, of course, a very long story. But the "Bali Beach" is not just a shop selling art from all over the world. For Nisarga and Hubert it is their life.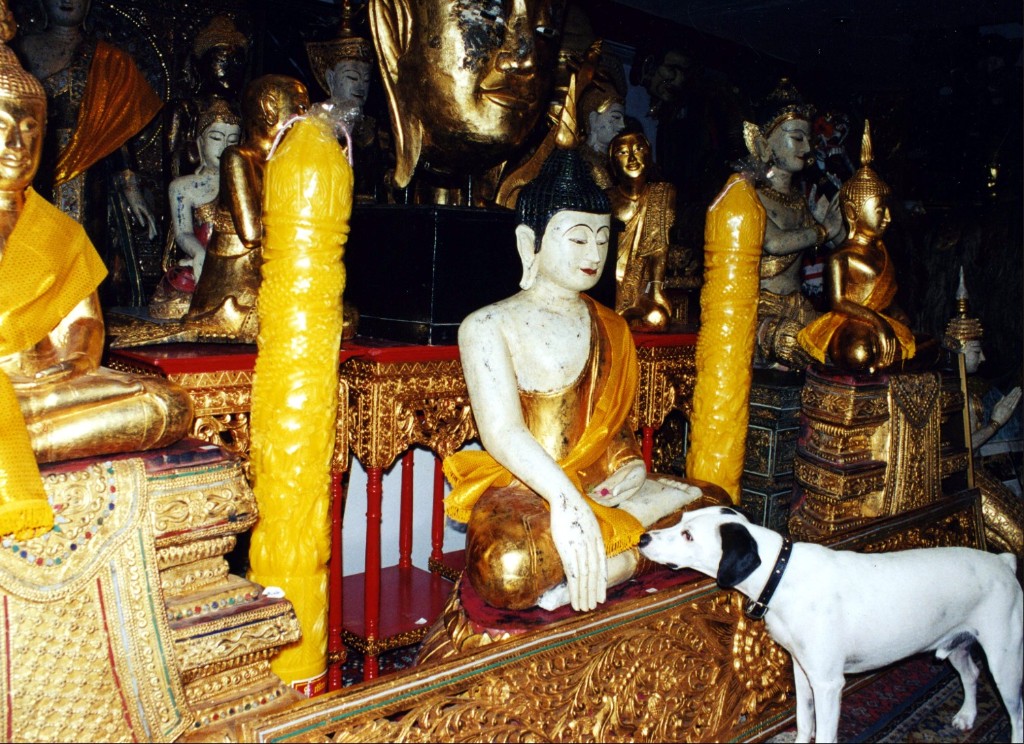 And then there is also "Dallas".
Since 2003, he has been the faithful companion of the Matysek family and is simply one of the "Bali Beach Museum Shop".
Curious?
Then visit Nisarga, Hubert and Dallas on the Costa del Sol!
And maybe Dallas will lead you down the steps to another world!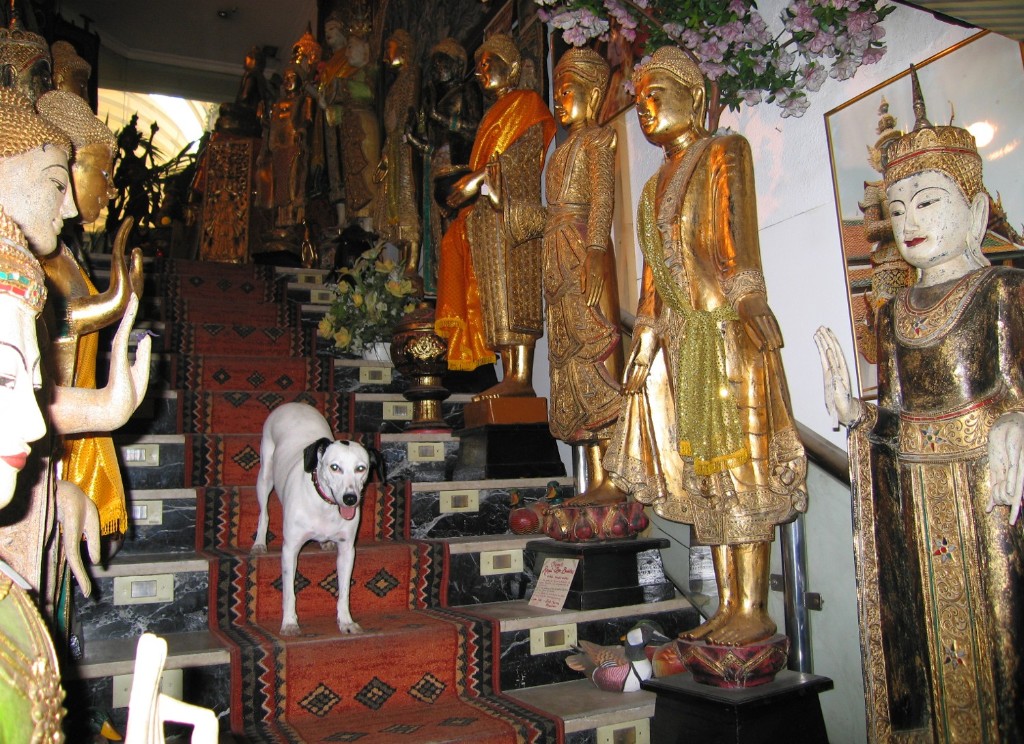 *NAMASTE!*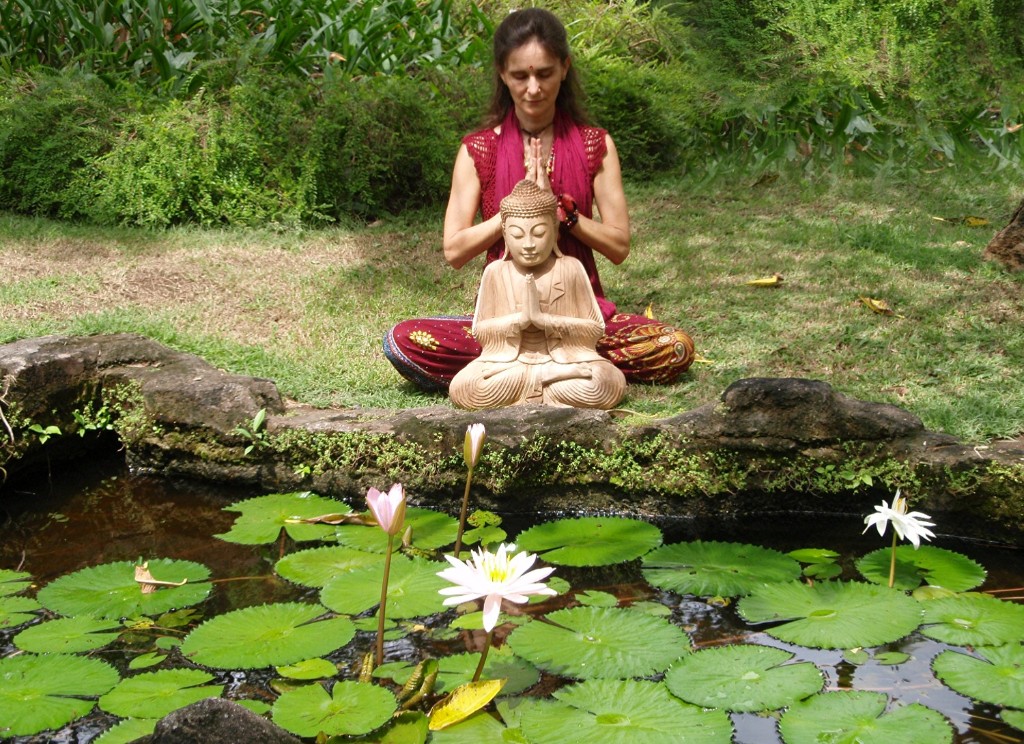 om om om om om om om om om om om om om om om om om om om om om om om om om om om om om om om om om om om om om
Bali Beach Museum Shop
Centro Comercial Cristamar
E-29660 Marbella - Puerto Banus - Spain
mobiles: +34 661566690 (Hubert) ,
+34 607947257 (Nisarga)
email: info@adventuremuseum.eu
om om om
**********************************************************************************************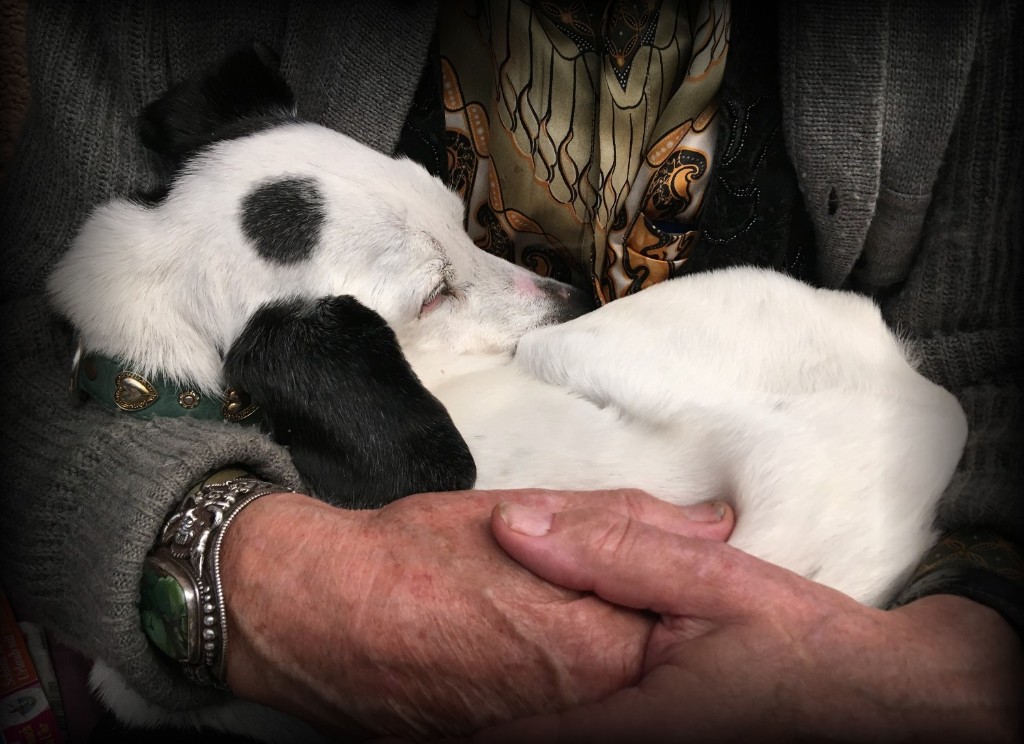 !We are in deep mourning!
Dallas died on March 26, 2018.
We miss him very much.
"Nothing is like you,
nothing was like you
and nothing will ever be like you"
AUM
********************************
back to "h OM e", please click:
http://www.adventuremuseum.eu/